Write Act Repertory's Producing Artistic Director, John Lant, is pleased to present the off-Broadway, East Coast premiere of LILI MARLENE, a new musical about a family's escape from the rising tide of Nazism; with book, music and lyrics by Michael Antin and directed and choreographed by Mark Blowers.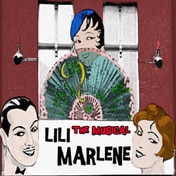 LILI MARLENE
A New Musical about a Family's Escape from the Rising Tide of Nazism

July 25 – October 10, 2017 – Tuesdays @ 7 p.m.
St. Luke's Theatre
308 West 46th Street
between 8th and 9th Avenues

The production begins previews on Tuesday, July 25 at 7:00 p.m. and opens on Tuesday, August 1 at 7:00 p.m.

LILI MARLENE is the musical love story of Rosie Penn, a famous, Jewish cabaret singer and Count Hans Wilhelm von Kleister Graff, Set in Berlin during the last year of the Weimar Republic, and at the beginning of the Third Reich period ( as the dark clouds of Nazism loom) the Count, as the head of the passport bureau of the German foreign ministry, helps the German cultural and scientific elite escape from the country as he, his family and Rosie must decide where their futures lie.
Featured in the cast : Charles Baran, Louie Bartolomeo, Rebecca Brunelle, Nicholas Tyler-Corbin, James David Dirck, Audrey Federici, Alexandra Gonzalez, Clint Hromsco, Rachel Leighson, Amy Londyn, Matt Mitchell, Kevin Paley, Jacob Rice, Elle Rigg and Stephanie Michele Toups. Music Direction and Arrangements by Rocco Vitacco. Production Manager, Krista Swan.
                                The Creative Team
Michael Antin (Composer, Bookwriter, Lyricist)
Retiring after 45 years of practice as a tax lawyer, Michael Antin has devoted himself to music and the theatre. His teaching experience, as a Visiting Professor of law, at Boalt Hall School of Law, University of California Berkeley, and in numerous countries of central Europe, brings a special perspective to his playwriting. Michael played five instruments and student conducted the All-Southern California High School Orchestra before even getting to high school. Upon entering UCLA he joined the choir conducted by Roger Wagner and moved on to the Chorale. He was the only non-music major admitted to the music honorary fraternity, Phi Mu Alpha Sinfonia. Michael left music behind when he entered law school. When he retired in March 2008 from the practice of tax law, he resumed piano lessons and joined a choir. His piano teacher motivated him to write lyrics and to compose, resulting in a proliferation of songs. A cabaret singer heard some of his work and motivated Michael to write what became his first musical, "Answer the Call". Additional experiences in getting to know people led to the further development and productions of the musicals Butterfly, Sophia, Renewal and Pillars of New York.
John Lant (Producing Artistic Director)
Mr. Lant is a 35-year veteran in the entertainment industry and has been involved in over 600 television, film, music tours, and theatrical productions as a creative director, consultant, and/or above the line entity. An award-winning producer, director, writer, lighting and set designer, John has mounted productions at Cal Arts, Ricardo Montalban, Powerhouse, Glendale Center, Hollywood Playhouse, Long Beach Playhouse, the Jewel Box Theatres and Write Act Repertory. His work and productions garnered DramaLogue, Diamond, ADA Awards and Garland, ADA and NAACP nominations, as well as LA Weekly and Backstage Picks of the Week. John worked with Jonathan Sanger at Chanticleer Films on two shorts that won an Emmy and an Oscar and mentored under Howard Storm. Scripts he has developed include Children's TV Pilots "Symphology," "Carrot Talk" and cable-themed "Anonymous Confessions" and several adapted musicals. John received the California Service Award from the State Legislature for his Community Outreach and Service to the Arts in 2000, 2001, 2008 and 2009. In NYC, he is current Production Manager at Carnegie Hall and, on down time, redesigns, redevelops and refurbishes theatres, including the upstairs Davenport Theatre, Elektra Theatre, Times Square Arts Center Theatres, the Richmond Shepard and a new exciting project Summer of 2017, refurbishing an old off-Broadway theatre in the Theatre District to its old glory. John's 30-week off-Broadway production of "FABULOUS! The Queen of Musicals!"was recently licensed through Steele Rights. This past year he produced 2 off-Broadway Shows at St. Luke's Theatre, "2 By Tennessee Williams" and the new musical, "Pillars of New York". Current Producing Artistic Director of Write Act Repertory and Founding Member of newly formed N.M.C.L.O. (New Musical Civic Light Opera), concentrating on the development of second stage, full musical workshop productions for off-Broadway shows and is also the Director of Development for Twisted Media NY.
Additional Producers: Tamra Pica & Write Act Repertory; Dramaturg,  Jim Blanchette and Casting by Tamra Pica Casting
The Los Angeles production of the musical in March/April 2017 was nominated for a total of eight Valley Theatre Awards (Best Play Musical; Best Director of Musical; Best Writing of a Musical; Outstanding Actor in a Musical; Outstanding Actress in a Musical; two for Outstanding Featured Actor in a Musical and Featured Actress in a Musical) and won for Outstanding Actress in a Musical – Amy Londyn.

Critical praise for the Los Angeles production:
"a stand alone and unique show… I highly recommend Lili Marlene" – NoHoArts.com
"Come to the Cabaret…tale with incredible talent" – The Examiner – Los Angeles
"performers are all highly skilled actors and singers, especially Amy Londyn as cabaret performer Rosie Penn" – Broadway World
"Director Mark Blowers brings out everyone's best." – Tolucan Times
"The play is a sweeping classic…story is imaginative, not historical, but a tale worth knowing." – Arts Beat LA
 For more information, please visit stlukestheatre.com OR  http://www.writeactrep.org/new-york.html

** Lili Marlene – DATES AND TIMES – St. Lukes Theatre **

Preview Opening – Tuesday July 25th, 2017 @ 7:00 PM
Opening – Tuesday August 1st, 2017 @ 7:00 PM
Running Tuesdays @ 7:00 PM through October 10th, 2017
St. Luke's Theatre – 308 West 46th Street – between 8th and 9th Avenues
*Tickets cost between $20 and $99 and can be purchased through Telecharge at https://www.telecharge.com/Off-Broadway or by calling (212) 239-6200*