Three Special Performances at 8 pm on Wed. Sept 14 and Thursdays Sept. 22 & 29, 2016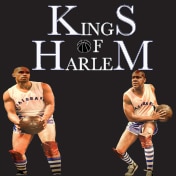 Layon Gray's "Kings of Harlem" at St. Lukes Theatre

From the people that brought you Layon Gray's acclaimed play, Black Angels Over Tuskegee, now in its 7th year Off-Broadway, comes Kings of Harlem. Inspired by the true story of six men who overcame adversity to win more than 2,000 games while barnstorming throughout segregated parts of the country in the 1930's despite being officially accepted professionally or socially.

The team was formed five years before the Harlem Globetrotters, and provided African – American men with the opportunity to compete against white athletes equally on the court. The Rens got their name from playing at the Renaissance Casino ballroom in Harlem, New York, where they amazed fans with their innovative and unique style of play. The play performed for the Legends of the NBA during All-Star Weekend.
See Layon Gray's, "Kings of Harlem" at St. Lukes Theatre
308 W. 46th st . NY 10036 ( just West of 8th avenue)
Tickets can be purchased at Telecharge- online or by phone at 212-239-6200 or 800-447-7400.