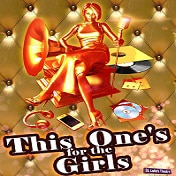 "This One's for the Girls" isn't just for the girls! "This Ones for the Girls" This fascinating and original new musical looks at the role of women over the past 100+ years through 40 popular standards. From the sad laments of fragile female victims ("A Bird in a Gilded Cage") to the angry anthems of women who are mad as hell and not going to take it anymore ("I Am Woman" and "You Don't Own Me"), This One's for the Girls is a high-energy celebration of American women that's certain to thrill and entertain men, women and everything in between! www.FortheGirlsTheMusical.com
A NEW MUSICAL BY DOROTHY MARCIC
FEATURING BROADWAY'S JANA ROBBINS
TO BEGIN PERFORMANCES OCTOBER 7
Opening Night is 

October 27

 at St. Luke's Theatre!
THIS ONE'S FOR THE GIRLS
,
 a new musical by Dorothy Marcic, is set to begin Off-Broadway performances Saturday, October 7th. Opening Night will be October 27th at St. Luke's Theatre in the heart of the Theatre District.
Under the direction of Tamara Kangas Erickson, THIS ONE'S FOR THE GIRLS will star Traci Bair (Cirque Dreams, Pandora's Box), Aneesa Folds (Ragtime, Sistas), Jana Robbins (Broadway's Gypsy, I Love My Wife, Crimes of the Heart), and Haley Swindal (Broadway's Jekyll & Hyde, The Secret Garden at Lincoln Center), with musical direction by Zachary Ryan.
THIS ONE'S FOR THE GIRLSisn't just for the girls! This fascinating and original new musical looks at the role of women over the past 100+ years through 40 Top 40 hits. From the sad laments of fragile female victims ("A Bird in a Gilded Cage") to the angry anthems of women who are mad as hell and not going to take it anymore ("I Am Woman" and "You Don't Own Me"), THIS ONE'S FOR THE GIRLS is a high-energy celebration of American women that's certain to thrill men, women and everything in between!
Writer Dorothy Marcic also created the hit musical Sistas, now in its sixth smash year. Sistas is the longest-running African American musical in New York history. Her first musical RESPECT (the genesis for THIS ONE'S FOR THE GIRLS) played in over 70 U.S. cities. Dr. Marcic is a professor at Columbia University, a former Fulbright Scholar and author of 14 books including Managing with the Wisdom of Love, Respect: Women and Popular Music and, most recently, Love Lift Me Higher.
Presented by William Franzblau.
THIS ONE'S FOR THE GIRLS will play Fridays at 

8 pm

 and Saturdays at 

2 pm

 at St. Luke's Theatre, 308 West 46 Street (just west of Eighth Ave.)
For tickets please click through to Telecharge  or call 212-239-6200.